Free Online Homeschooling
Enrolling in a free online homeschool provides students with a flexible curriculum and valuable time for other activities and family life. With multiple options available to choose from, parents and students can find the best program to suit their family.
Easy Peasy Online Homeschool
If public school options are not your thing, the Easy Peasy All In One Homeschool site offers a structured, Christian curriculum which can be tailored to meet your needs. Created by Lee Giles, it is a totally free, highly comprehensive, and easy-to-follow curriculum that offers 180 days of lessons. Giles divides the materials into grade levels and also into four-year rotational themes that follow the traditional Classical model. The experience can be as structured or as flexible as your family needs. It is possible to begin at day one and work through the one hundred and eighty days in any given grade level. It is also possible to pick individual subjects to enhance another curriculum you may be using. No registration is necessary. Simply go to the site, click on the level you want, and begin.
Reviews
Cathy Duffy reviews provides a very detailed review of the Easy Peasy All in One Online Homeschool, summing up the program as an "eclectic mix of traditional and Charlotte Mason methods with lapbooking and online resources." Cathy Duffy praises Esay Peasy's easy to follow structure and also likes the fact that all the resources needed are provided online. Although Cathy Duffy reviews points out that Easy Peasy is nfull-servicervice program, it concludes that it is a comprehensive and impressive option.
Ambleside Online
Ambleside Online offers a comprehensive, free curriculum that follows the methods developed by Charlotte Mason in Britain at the beginning of the twentieth century. Parents receive access to the curriculum guides, book lists, and online books for their student's grade level, from kindergarten through twelfth grade, as well as a weekly schedule following a thirty-six week school year. Adherence to the schedule is optional as it is intended to be a guide. Parents do not need to register to use this curriculum, and Ambleside does not provide teachers - the parent teaches the content. However, the site does provide substantial guidance in how to implement Charlotte Mason's methods at home. Ambleside Online does not include math or a foreign language so these will need to be sourced separately.
Reviews
Homeschoolreviews.com suggests that Ambleside Online provides a great curriculum guide. Parents especially like the literature choices and the flexibility. Most reviewers praise the fact that the curriculum is very easy to follow, combines texts and work for different grades fairly seamlessly, and, most importantly, is interesting. It works well for families that are interested in implementing Charlotte Mason's methods. You can also tweak it easily if you don't want to do everything. However, if you're looking for more guidance for day-to-day experiences, Ambleside doesn't necessarily provide it, (although you will find a helpful forum on the site full of moms who are willing to offer free advice and guidance.)
Mater Amabilis
Mater Amabilis bills itself as "structured education for Catholics." Created by Dr. Kathryn Faulkner, a British mother of three and Michele Quigley, an American mother of ten, Mater Amabilis is based on Charlotte Mason's methods. It offers a curriculum for Pre-K to eighth grade, divided into levels. The site explains how the levels correspond to both the American and the British school systems. No registration is required and parents can modify any of the ideas and texts to suit their needs. Mater Amabilis offers a thirty-six weeks of lesson plans which is designed to fit within the Catholic Church's liturgical calendar. However, you may work at your pace and therefore structure the curriculum accordingly. The subjects offered are extensive and include religious education, literature, history, geography, science, Spanish, French and music appreciation. The curriculum does not provide math. This, again, would need to be bought or sourced from one of the options below.
Reviews
Catholic Culture.org offers a review of Mater Amabilis, suggesting that it provides a great educational guide for families and that it can either be used as a full curriculum or as a "springboard to learning." The site suggests that the main strengths of the curriculum are its coverage of kindergarten through eighth grade, resources taken from Charlotte Mason, links to comprehensive materials, and articles on education and teaching techniques.
An Old Fashioned Education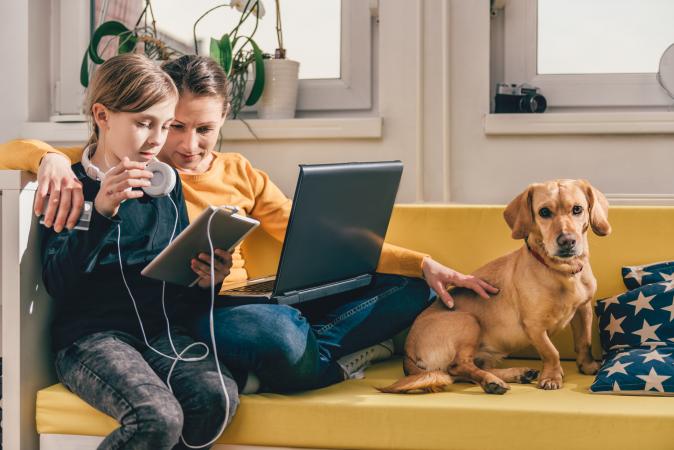 Created by a homeschooling mother of three boys, An An Old Fashioned Education was designed to incorporate Christian values into a forty week educational schedule which is broken down into grade level and can be used from kindergarten through twelfth grade. Almost all of the resources are free, and include public domain literature. Maggie, the author of the site, recommends that parents buy math and science texts or curricula so that their child or children can benefit from the most up to date information. For a comprehensive look at the Old Fashioned Education curriculum, read Maggie's guide.
No registration is required to follow this curriculum. Simply select the year of your choice, read or print out the forty week schedule, and follow the links to the information. You are free to follow Maggie's ideas and texts or to interchange with your own as you see fit.
Reviews
Successful-homeschooling.com provides a number of reviews for An Old Fashioned Education. Most reviewers seem to especially like the fact that there are so many free literature choices, and some are especially taken with the selection of older, or classic, literary texts. Some reviewers point out that the literature needs to be read online or printed, which often means a great number of pages. Others suggest only printing parts of texts to combat this potential issue.
Other Resources
While these are not comprehensive curriculums, they are free and robost options to fill in some gaps, or to enhance your studies.
Khan Academy
Founded in 2005 by Salman Khan, Khan academy is a free learning resource which teaches by using practice exercises and instructional videos. Parents and students can both sign up, a very simple procedure, and study at their own pace. Most of the resources are geared towards the upper middle or high school level. However, Khan provides a math curriculum from kindergarten through high school and Khan's grammar resources would also be suitable for younger students. Although Khan is not a complete curriculum, it is a great addition to the some of the other more complete programs.
Common Sense Media awards Khan Academy four stars and suggests that it is a quality resource that is continually growing and improving. The site praises the "almost unlimited" math resources but suggests parents should be aware that Khan will work best for students who already have a level of mathematical understanding.
cK12
After a very simple sign up process, cK12.org will take you to your student dashboard where you may select the subject you wish to learn; choosing from math, several different sciences, and spelling. The resources are free and students can work at their own pace, picking topics to suit their individual needs. The content includes reading materials, videos, practice questions, and often an interactive exercise.
Common Sense Media awards Ck12.org four stars and suggests that the resources are mainly geared towards high schoolers, although there is information for younger children on the site. Common Sense Media points out that the information is available in fifty different languages and especially likes Ck12's ability to transform a textbook into a multimedia experience.
Hippocampus
The hippocampus.org website provides free resources for the middle school to college level. Subjects included are math, science, economics, religion, history, and sociology. No sign up is necessary and students should simply click on the subject they wish to learn about. Hippocampus.org compiles several resources from different sites into one place; using websites such as NASA, Khan, STEMbite, Phoenix College, and Moments in American History, to provide the student with a comprehensive and unusual variety of educational information.
Although Common Sense Media only awards Hippocampus.org three stars, suggesting that, although much of the information is excellent, some of the chosen sites lack sophisticated content, Ed Tech Review points out that the site is a highly comprehensive resource which pulls together many educational resources from the web into one core academic website. Furthermore, Ed Tech Review suggests the site is easy to navigate and a great homework, study, and exam resource.
School-at-Home Options
While virtual academies are not true homeschooling, in the sense that you can teach whatever you want, how you want, they do offer an option for homeschoolers who want a public school education at home. Generally, free school-at-home options are only available in states where online charter schools are legally available. It is important to understand that aside from being allowed to take classes at home, this is public education.
Connections Academy
Connections Academy offers a free, public education for grades K - 12 in several states. All tuition and materials are completely free. The school is fully accredited. (The accrediting agency varies based on state, but all programs are accredited.) The curriculum for each student enrolled covers core subjects as well as individual choices and electives.
Registration
Registration is required and the registration process is detailed. In order to attend the online academy for free, you have to meet certain qualifications which do vary by state. However, after you complete the initial steps, a Connections Academy Counselor will guide you through the rest of the enrollment process. In many states, if there are places left, students can enroll after the beginning of the school year. Connections Academy is a public school and generally follows the calendar of traditional public schools in your area.
International Connections Academy
Do not be confused with Connections Academy's private online school offering which is International Connections Academy.
Reviews
Homeschoolreviews.com provides insight into the school from the point of view of the homeschooling community. The general consensus Connections Academy is suitable for those who are seeking a public, online and secular experience. However, parents and students hoping for a true homeschool experience may find Connections Academy's rigid structure too limiting. It should be noted though that some on the site suggest that Connections Academy is a valuable resource for those looking for a high school level curriculum.
K12
K12 provides online public schooling for many states. Use the school finder to see if this is an option where you live. K12 also offers a private version of their school which is not free. However, K12's public schools are one hundred percent tuition free. K12 set out, in 1999, to create a school model allowing students to work at their pace with individually tailored courses which still encompassed the core curriculum as defined by a particular state. K12 is accredited by AdvancedEd and provides state certified teachers. Parents act as Learning Coaches and are very involved with their child's education. K12 is a full-time school and the enrollment process is similar to the process found at any public school.
Reviews
Some reviewers on Homeschoolreviews.com praise the K12 curriculum, although some reviewers caution that it is a school-at-home model rather than true homeschooling. If you are looking for flexibility and choice and a true homeschooling experience, this school would probably not work for your family. However, if you would rather follow a structured curriculum and enroll in an accredited school, the K12 could be a valuable resource.
Get Started With Online Schooling Today
The growth of the internet, as well as the increased desire of many families to homeschool their children, means that the need for free homeschooling resources has intensified. Most of the above programs are committed to growing and improving and finding free, quality resources is becoming easier than ever before. Whether you choose a structured public school program, a more flexible curriculum, or a mix and match mesh of several offerings, you should find that homeschooling is possible whatever your budget.