List of Descriptive Adjectives
Looking for a way to improve your homeschooler's writing? Helping your child use descriptive adjectives in his writing is one way in which you can help your child improve his prose dramatically.
Focus on having your child practice replacing commonly used adjectives, such as "mad," with some of these more descriptive alternatives in order to create a clearer picture while writing. Many of these adjectives help focus the writing. For example, saying someone is "ecstatic" and someone is "content" are two very different ways to say someone is "happy".
Ways to Say Mad/Angry
Angry
Frustrated
Upset
Irate
Furious
Heated
Bitter
Cross
Cranky
Annoyed
Ways to Say Sad
Forlorn
Disappointed
Blue
Down
Glum
Tearful
Sorrowful
Depressed
Unhappy
Miserable
Ways to Say Nice
Sweet
Friendly
Kind
Likable
Pleasant
Lovely
Amicable
Polite
Warm
Cordial
Ways to Say Happy
Delighted
Ecstatic
Joyful
Content
Elated
Jubilant
Perky
Upbeat
Jolly
Merry
Ways to Say Pretty
Beautiful
Handsome
Fair
Fine
Adorable
Glamorous
Alluring
Picture-perfect
Gorgeous
Lovely
Ways to Say Good
Well
Fine
Great
Acceptable
Agreeable
Okay
All Right
Nice
Satisfied
Positive
Ways to Say Tired
Fatigued
Worn out
Exhausted
Weary
Inactive
Frail
Weak
Sleepy
Droopy
Bored
Ways to Say Big
Huge
Giant
Gigantic
Enormous
Large
Gargantuan
Tremendous
Colossal
Massive
Humongous
Ways to Say Small
Teeny
Tiny
Miniature
Little
Wee
Baby
Itty-bitty
Mini
Petite
Teensy
Printable List of Adjectives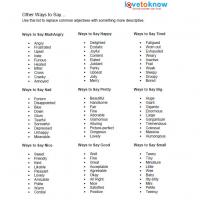 In addition to these adjectives, encourage your child to combine adjectives when describing items. For example, say "the adorable, brown dog" instead of just the "the red dog." Teach your child to use a thesaurus to liven up their writing and keep lists of new adjectives they discover. You can also try banning certain generic adjectives to help your child think outside the box to make his writing more lively. No matter what you do, keep in mind that the best way to become a better writer is to practice. Give your student ample opportunity to practice writing, and the skill will eventually flourish.
If you need help downloading the printable list, check out these helpful tips.