Free resources like academic goal setting worksheets or printable homework charts help students at any grade level stay focused on education. Learning to set and track goals with school work is a great skill that can help kids later in life with their chores or work. Click on the goal sheet you like best to download and print using the troubleshooting guide if needed.
Elementary Academic Goal Setting Worksheet
Creating a goal sheet for kids in elementary grades is simple. You can use printable goal sheets to help kids learn about making a goal and achieving it. For kids this age it's best to focus on one goal at a time. Students can make one goal for the day, week, month, or year. This simple goal setting worksheet for students PDF features language kids will understand and the different elements of goal setting.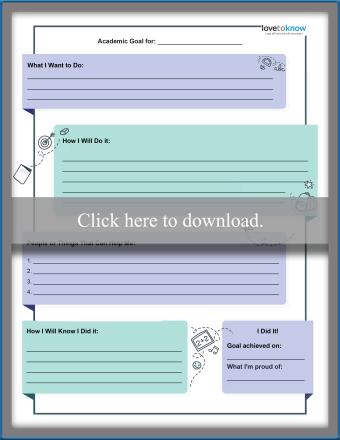 Ways to Use the Worksheet
Once you've introduced and explained goal setting to kids, you can guide them through using the worksheet.
Start by setting a group or class goal. Work as a group to set the goal and fill out the worksheet.
Create an academic goal binder where you can add all the completed goal setting worksheets by one student, then share it with their parents.
Once a goal has been achieved, add a fun sticker near the "I Did It!" section and display it.
Middle Grades Academic Goal Setting Worksheet
Goal setting activities for middle school can include using goal setting worksheets to track long-term and short-term educational goals. This free goal setting worksheet PDF for kids in grades six through eight features room for three clear goals and a chart to help keep track of how each one can be achieved.
Ways to Use the Worksheet
As junior high students are learning about organization and planning, they can use goal setting worksheets for weekly, monthly, or annual goals.
Give students one worksheet per subject and ask that they keep each in their folder for that class.
Let students work in pairs to help each other set and describe goals.
Take time in class to talk with students about their progress toward each goal and have them write a check-in note in the "Progress" column.
High School Academic Goal Setting Worksheet
Teenage goal setting worksheet PDFs are a great way for high school students to make the most of their four years in secondary school. Since teens are better able to see all the steps in reaching their goals and focus on several goals at once, this printable worksheet tracks each goal separately with room to tell how success will be measured.
Ways to Use the Worksheet
Teens should be able to use the worksheet on their own, but may need help to determine measurement or specific steps.
Ask teens to fill out one worksheet for their academic year and one for each subject so they work on short-term and long-term goals at the same time.
Have teens pencil in deadlines in the "Completed" column so they have a time frame to work with.
Send home one worksheet for parents to fill out and see how they match up with how the student filled it out.
General Academic Goal Setting Worksheet
Kids in any grade who are well versed in goal setting and like using organizational worksheets can try out the SMART goals printable worksheet. The five elements of SMART goals for education are specific, measurable, attainable, realistic, and timely. This general academic goal setting worksheet PDF includes room to write how each goal will be measured and breaks each step for each goal into individual tasks.
Prioritize Your Education
Whether you need help to stay focused or get organized, academic goal setting work sheets help you keep your eye on your educational prize. Whatever you want to achieve in education, you can achieve with the help of goal setting tools.