Fun DIY and Interactive Weather Games for Kids
Weather games for kids make learning about the causes and types of weather fun. Whether you're introducing preschoolers to basic weather concepts or helping older kids learn the difference between weather and climate, games are great teaching tools.
Printable Weather Games for Kids
Printable kids weather games are easy to use and help teachers stick within their classroom budget. Click on the image of the game you want to play, then download and print. If you run into problems printing the games, check out the helpful Adobe guide.
Printable Picture This Weather Board Game
Kids of any age from preschool through elementary school can play the simple Picture This Weather! board game. Kids will need to use a bit of creativity to illustrate weather related items through drawings, play dough sculpting, or charades. You'll need one or two standard dice and a found game piece for each player. The game works best with four to six players and comes with a direction.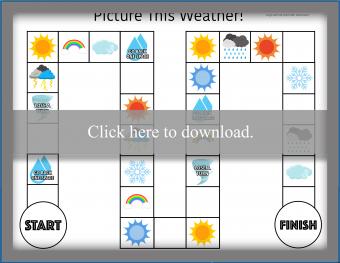 Printable Deck of Weather Cards
This deck of 52 weather cards can be used to play almost any game you'd use a standard deck of playing cards for. The suits have been replaced with the four factors that create different weather conditions: air pressure, wind, temperature, and precipitation. Lower numbers feature lower air pressure, colder temperatures, and less wind while higher numbers have the opposite.
Play Go Fishing for Weather with little kids where you use standard Go Fish rules to find matches for a simple weather matching game.
Create a card game similar to Rummy for older kids where melds must be composed of the elements needed to create a specific type of weather like one rain card, one high air pressure card, and one warm sun card to create a thunderstorm or two hot suns and a rain card to make a rainbow.
Turn the classic kids card game Crazy Eights into Crazy Weather by choosing one specific weather factor as the wild card. Change the wild card criteria for each round of the game.
Fun and Easy Weather Games for Kids
Weather games for kids should be simple, fun, and include the basic weather terms they need to know at their age. Cool weather games for classrooms can also be used at home, in child care programs, or in library programs for kids.
Weather Forecast Charades
Kids will need to act out being weather forecasters to help their classmates guess their weather predictions. This simple weather forecast game is ideal for preschoolers.
One child stands in front of the small group or class.
You can assign types of weather to each child or let them choose their own.
The child acts out their weather conditions using only body motions, no props or words.
The first child to correctly guess actors weather forecast gets to be the pretend forecaster next.
To make the game more fun you could use a SmartBoard to offer up a fun background like you might see a weatherman use on TV.
Seasonal Spelling Bee
Use seasonal trivia as the basis for a Four Seasons Spelling Bee. Instead of spelling out vocabulary words, players will take turns spelling out weather related answers to seasonal trivia questions. This game is best for upper elementary students. You can focus on one season by using spring facts for kids or add in autumn facts for kids, summer facts for kids, and facts about winter for children.
Students take turns standing to answer a trivia question.
You ask one trivia question.
The standing student has one minute to spell out the answer to the question.

If they answer correctly, they move on to the next round.
If their answer is incorrect, they remain seated for the rest of the game.

The last player standing is the winner.
Weather Jeopardy
Make your own Jeopardy-style game using weather trivia for kids. Kids in upper elementary grades should be able to answer the trivia questions.
Choose your format and create your Weather Jeopardy materials.
Turn weather trivia questions into Jeopardy-style questions.
Once you ask a question, the first child to "buzz" in gets a chance to answer.

If their answer is correct, they earn the points associated with that question.
If their answer is incorrect, they lose the same number of points the question is worth and another player can "buzz" in with an answer.

The player with the most points at the end is the winner.
Weather Bingo
Create your own Weather Bingo game using free, blank Bingo game board templates. Use free clip art images like a clip art Christmas snowman, Thanksgiving clip art leaves, or umbrellas from spring clip art to create your boards.
Create your Bingo materials.
Give each child a Weather Bingo card.
Act out one weather image. Kids cover the image on their board that illustrates your charade if they have it.
The first child to cover a row of images calls out "Bingo" and wins.
Free Weather Games for Kids Online
If you have access to a computer or tablet, there are tons of great online games that help kids learn about and explore the concept of weather. You can use online weather games for the classroom, at home, or on the go.
Dress for the Season Games Online
Toddlers and preschoolers can start learning about weather with simple dress for the weather games online. Dress for the Season from PBS asks kids to dress fun animal characters for different types of weather using basic mouse skills like left clicking. Dress for the Weather from ABCYa also asks kids to dress up animals for certain types of weather.
Weather Wiz Kids Online Games
You'll need java to play ten weather games on Weather Wiz Kids. Online games include a weather word search, Snowflake Catcher game, and a weather memory matching game. Younger kids can try out the simple games and coloring pages while older kids can work on the word puzzles.
NASA Space Place Weather Games
The NASA Science Space Place features tons of free, educational online games for kids. Some of these games are weather related. Weather Word Cross is an online crossword puzzle featuring weather terms. Wild Weather Adventure lets kids compete against a friend or the computer in a virtual board game where you have to answer weather questions to get your research blimp around the world.
SciJinks Weather Games Online
The SciJinks website is run by NASA and the National Oceanic and Atmospheric Administration (NOAA). Their weather games section features over 20 free weather related games for kids. If you love weather trivia, Weather Tricktionary is a great game to test your knowledge of weather myths and facts. Hurricane Hero asks players to determine where hurricanes will make landfall.
Winning at Weather
Kids weather games aren't really about winning, they're about learning what weather is and how it works. You can turn almost any kids game into a weather game when you add in the elements of weather, types of weather, or accessories needed to deal with different types of weather. Supplement your weather lessons by using a weekly weather record sheet throughout the school year and expanding the topic to include climate games and climate change games for kids.