Conflict Resolution Lessons
Conflict resolution is an important skill for children to learn. Understanding and being able to implement the steps involved can help young people gain confidence as well as improve their social skills and interactions with others.
Printable Lesson Plan for Elementary Students
In this home schooling lesson, you can help your students identify when conflict occurs and follow a simple, step-by-step approach to handling it successfully and appropriately. For more information on downloading the plan, see these helpful tips.
Instruction
The elementary lesson defines and offers examples of conflict with an easy-to-remember, four-step process.
One key point in the instructional section includes examples of ways your student can calm down after an incident occurs - keeping calm is actually the first step in the process. Young children do not always recognize the significant impact their emotions can have on solving a problem, so discussing how crucial it is to calm down before dealing with an issue is an important step.
You can help your student learn how discuss their feelings about a conflict in an appropriate way, respectfully listen to others' feelings, brainstorm and negotiate ideas with others and implement a solution that satisfies both parties involved.
Activity
After learning about and discussing conflict resolution, you and your student will make puppets and engage in an interactive activity using conflict prompts. The puppets are a fun way to role play and help your student find appropriate solutions for each prompt if needed. To expand the pool of solution ideas, parents may find it helpful to enlist the help of siblings or the other parent for this interactive activity as well. You can evaluate how well your student understood the lesson based on his or her ideas in this activity.
Printable Middle and High School Lesson Plan
By the end of this lesson, students will not only be able to recognize and define conflict, but they will also be able to manage conflict in a responsible and respectful way. Since emotions during preadolescent and adolescent years can be very strong, an important component of this lesson is to focus on calming down and maintaining control of emotions. The lesson also stresses respect for others and the importance of listening.
Instruction
In this lesson, you will help your middle or high school student to learn about different types of conflict, common responses to conflict and how to resolve conflict in a mature and suitable manner.
Parents initially teach and discuss what conflict resolution is and steps for implementing successful conflict resolution. Students then complete a worksheet based on what they have learned.
Worksheet
After you teach and talk about the lesson, have your student complete the worksheet with true and false, multiple choice and open-ended questions. The worksheet asks for the student's ideas on handling various problematic scenarios. You can evaluate how well he understood the material based on his responses. Once your teen completes the worksheet, you may want to take time to discuss other possibilities, personal feelings, and personal challenges or questions he may have regarding this important, but complex, life skill.
Conflict Resolution Lessons and Activities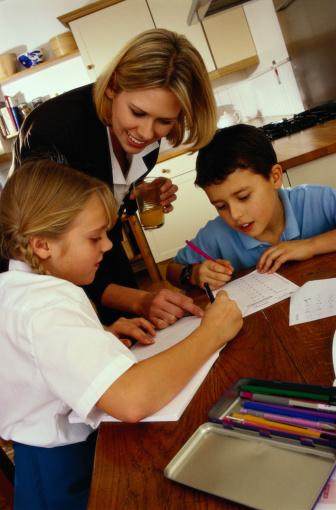 Using simple conflict resolution lesson plans can help home schooling parents or teachers in a co-op environment to communicate effectively what conflict is and how it can be managed. There are a number of different lesson plans that can be used as-is or adapted for home schools.
Improve Social Skills and Confidence
Peaceful conflict resolution is possible when children and teens are equipped with the right knowledge. Being able to recognize and follow through with the steps in the resolution process allows them to become more independent and able to respond with self-assurance to problematic situations. It also allows them to improve their relationship skills, become more socially responsible, and gain confidence.